Building Integrated Photovoltaics, BIPV technology or how to make buildings take advantage of the sun's energy in a way according to the urban environment.
Building Integrated Photovoltaics (BIPV) is a multifunctional technology that integrates photovoltaic modules into the structure of a building or urban element, replacing conventional construction materials. This BIPV technology is optimally applied to both new construction and existing buildings.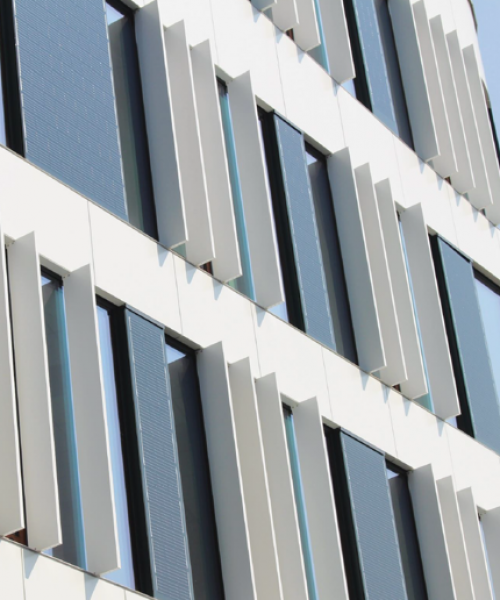 Main Advantages of BIPV technology
The main advantage of BIPV technology is its short payback period, quickly amortizing the cost of the system thanks to savings in construction material, installation and power generation for self-consumption.
Our BIPV Products and Solutions
BIPV products are available in all kinds of shapes, colors and cutting-edge technologies. This allows custom designs adapted to the environment, providing an ecological image of the building.

Materials that are the future of construction

For any building or urban environment

Ecological and avant-garde brand

Maximum efficiency and durability

We provide the necessary services for the sizing of an energy community through the use of photovoltaic solar technology or energy storage in shared self-consumption networks.

We work on individual or collective self-consumption solutions adapted to the client's needs, integrating different technologies to technically and economically optimize the installation.

At BIREN we provide technical, strategic and market consulting services on BIPV technology and its applications for self-consumption and integration in energy communities.

Avant-garde BIPV products, with the latest technology, available in all kinds of shapes, colors and sizes thanks to a large network of collaborators who satisfy the demand of the market.
Do you want to know more about BIPV Technology?
Write us and we will study your project or building with the different possibilities of improvement and integration of solar energy.
Calle Cifuentes, 5 | 28021 | Madrid
+34 653 10 52 81
info@birenbipv.es